About us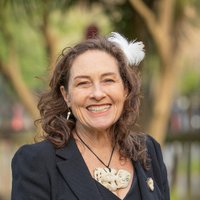 Judge Frances Eivers
Chief Children's Commissioner
Te Kaikōmihana Matua
Her Honour Judge Frances Eivers (Ngāti Maniapoto, Waikato) is our current Chief Children's Commissioner, taking on the role from 1 July 2023. Before being appointed Chief Commissioner, she was Children's Commissioner, appointed in November 2021.
Prior to this, Judge Eivers was a Judge in the District Court in Manukau, working extensively with mokopuna in the court system. She has worked as a lawyer in Auckland, Whakatāne, London and Tauranga. In New Zealand, she practised mainly in the Family, Youth and Criminal courts, including working as a lawyer for children and as a youth advocate.
Born in Kawerau and raised in Te Teko, she counts herself lucky to have been raised with love in her whānau whānui and to have had a community where "everyone pretty much knows everyone". She is a mother of three sons and counts this as her greatest achievement.
She believes that every child is a gift: he mokopuna, he taonga. If every child is treated as a gift, a treasure, then every New Zealander would ensure that the welfare of children is at the heart of every decision that affects them and their families.