All publications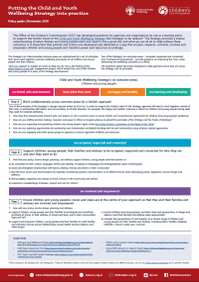 30 November 2020 Resources
Putting the Child and Youth Wellbeing Strategy into Practice - Policy Guide
The OCC has developed a set of questions as a guide for agencies and organisations to use as a starting point in to support the holistic intent of the Child and Youth Wellbeing Strategy, with a focus on ensuring children and young people are accepted, respected, connected, involved and empowered.
The Child and Youth Wellbeing Strategy sets out a shared understanding of what's important for child and youth wellbeing, what government is doing, and others can help. (footnote 1 here)
The Strategy was informed by the What Makes a Good Life? engagement where we heard from more than 6,000 children and young people about what a good life means to them. (footnote 2 here)  
"Having a good life isn't necessarily about the materialistic things. I think having strong friendships/relationships with people who genuinely care about you contributes better to a good life."  Rangatahi from Taumarunui
The Strategy includes nine guiding principles and six wellbeing outcomes which outline what children and young people want, and need, for a good life.
The six wellbeing outcomes are that children and young people:
Are loved, safe and nurtured
Have what they need
Are happy and healthy
Are learning and developing
Are accepted, respected and connected
Are involved and empowered.