All publications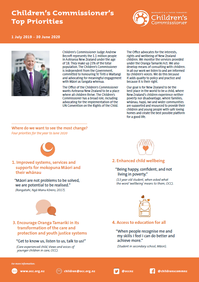 he Office of the Children's Commissioner is focused on ensuring Aotearoa New Zealand is a place where all children can thrive. As Children's Commissioner, I am independent from the Government. I have a broad role under the law to advocate for the interests, rights and wellbeing of children and monitor the services provided under the Children, Young Persons, and their Families Act.
I have set four top priorities for 1 July 2019 - 30 June 2020:
Improved systems, services and supports for mokopuna Māori and their whānau
Enhanced child wellbeing
Encourage Oranga Tamariki in its transformation of the care and protection and youth justice systems
Access to education for all
 The full outline is attached below.